Read here to stay up to date on the most current information regarding Gifted and Talented Identification and Services during Covid-19 for the 2020-2021 school year.
https://5il.co/oqcp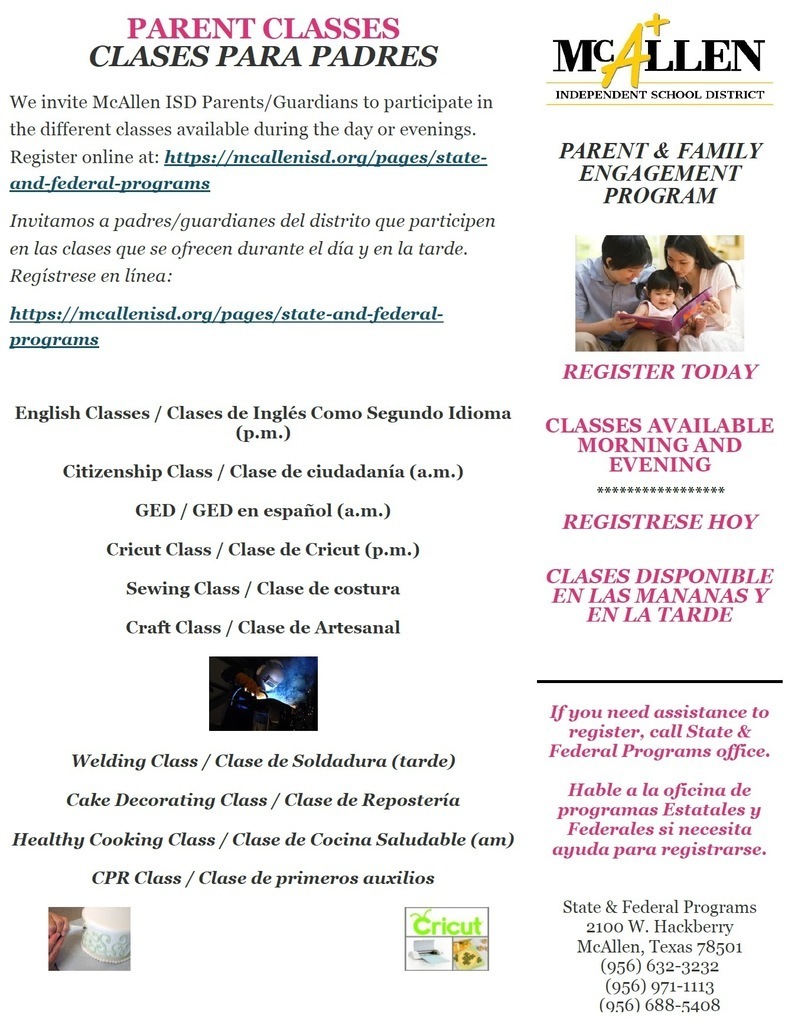 The McAllen ISD Police Department is collecting food to donate to families in need until Jan. 29. They are accepting canned foods and non-perishables. Drop them off at the McAllen ISD PD (2112 N. Main St.). For more information, contact Officer Del Angel at 956-434-6494. El Departamento de Policía de McAllen ISD está recolectando alimentos para donar a las familias necesitadas hasta el 29 de enero. Están aceptando alimentos enlatados y no perecederos. Déjelos en McAllen ISD PD (2112 N. Main St.). Para obtener más información, comuníquese con el Oficial Del Angel al 956-434-6494.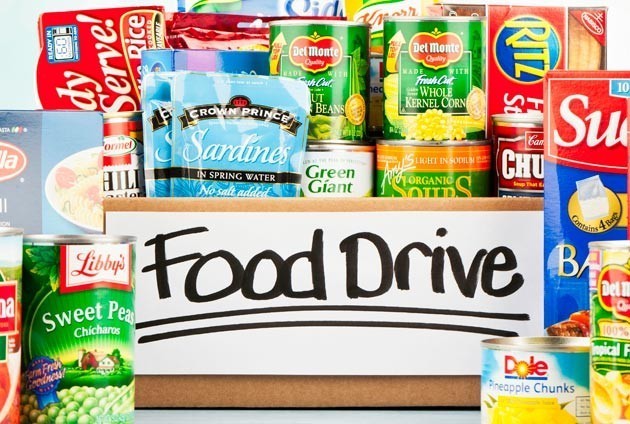 Attention Wilson Warrior parents! Please read the following letter from the superintendent. ¡Atención padres de Wilson Warriors! Por favor lean la siguiente carta del superintendente.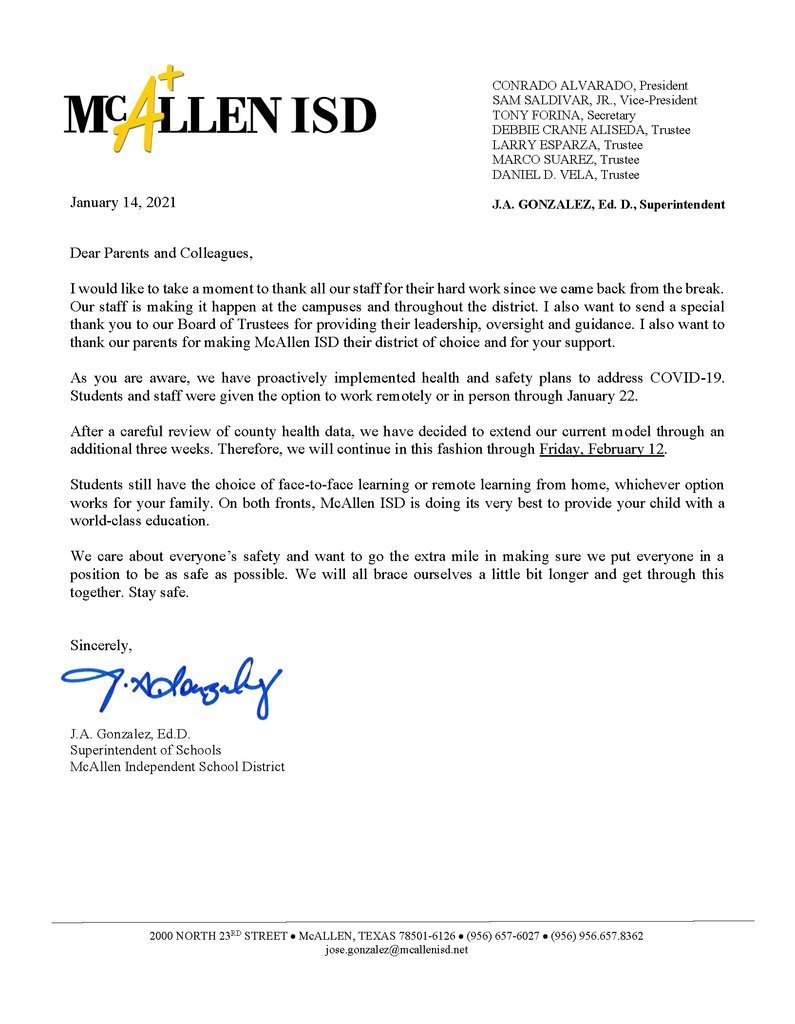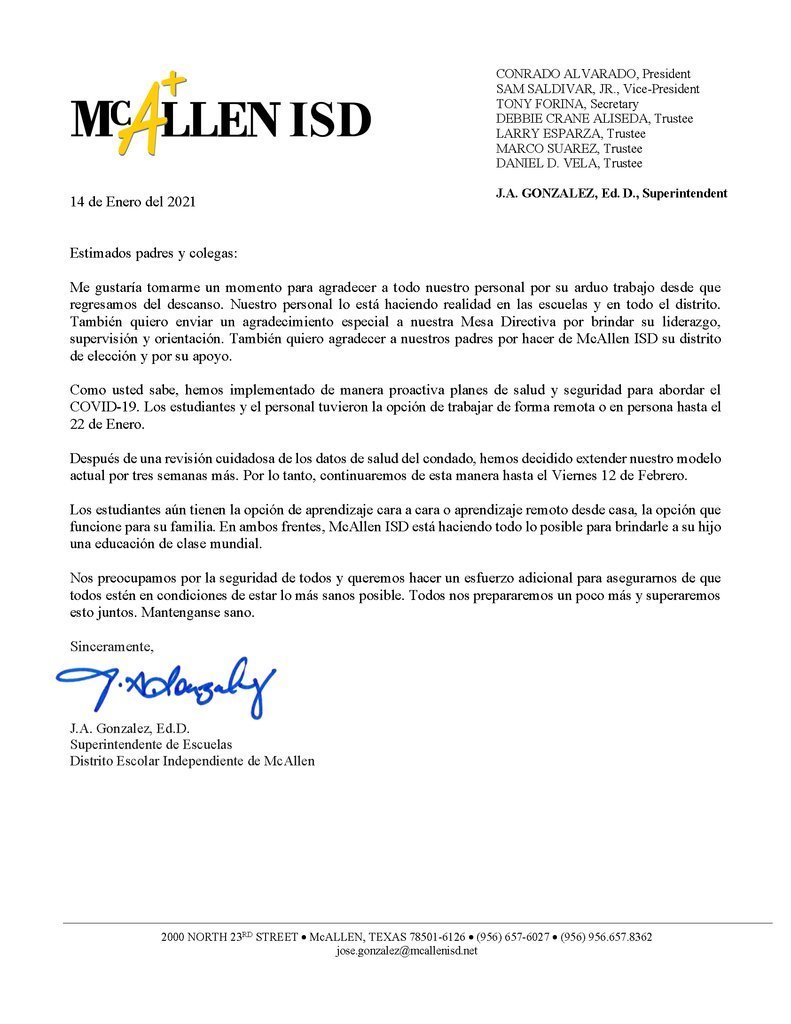 The McAllen Kids Marathon Final Mile will be run from 9-10 am on Sat (1/16). This will be a virtual event to keep everyone safe. Parents, share pics or videos of your kids on Facebook and tag @mcallenisd . You can tag your school too! Use the hashtags #MKM2020 and #LetsMove. La última milla del McAllen Kids Marathon se ejecutará de 9 a 10 am el sábado (1/16). Este será un evento virtual para mantener a todos a salvo. Padres, compartan fotos o videos de sus hijos en Facebook y etiqueten @mcallenisd . ¡También puedes etiquetar tu escuela! Utilice los hashtags # MKM2020 y #LetsMove.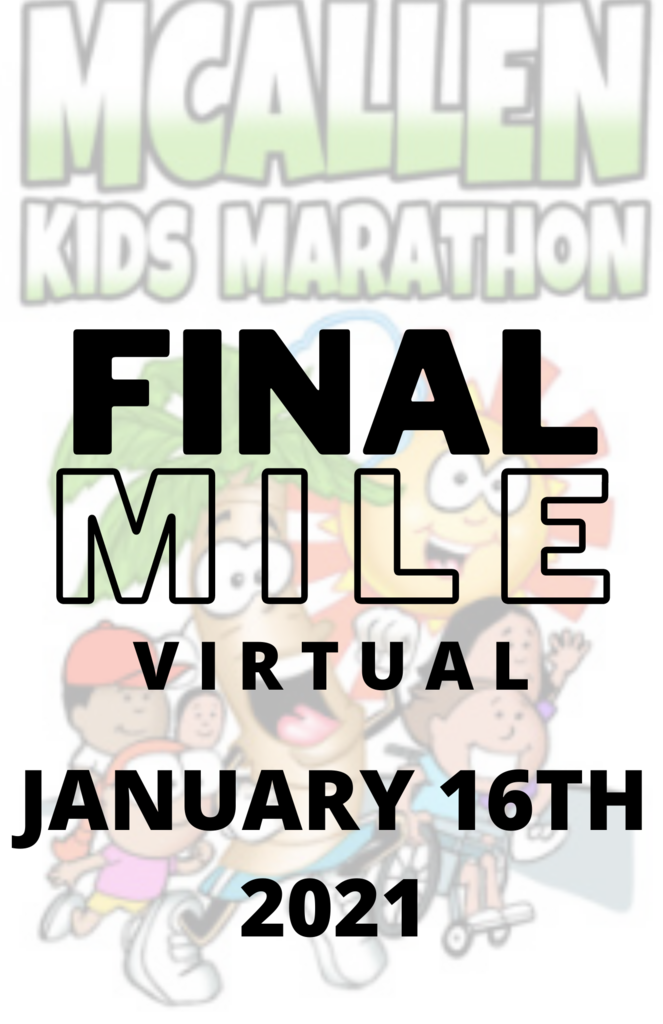 Do you need any assistance or have any questions regarding our District? Call the number on the flyer to get your questions answered. ¿Necesita ayuda o tiene alguna pregunta sobre nuestro Distrito? LLame el numero que esta en el volante y le podran contestar sus preguntas. #DistrictOfChampions #WeAreReady #TheExtraMile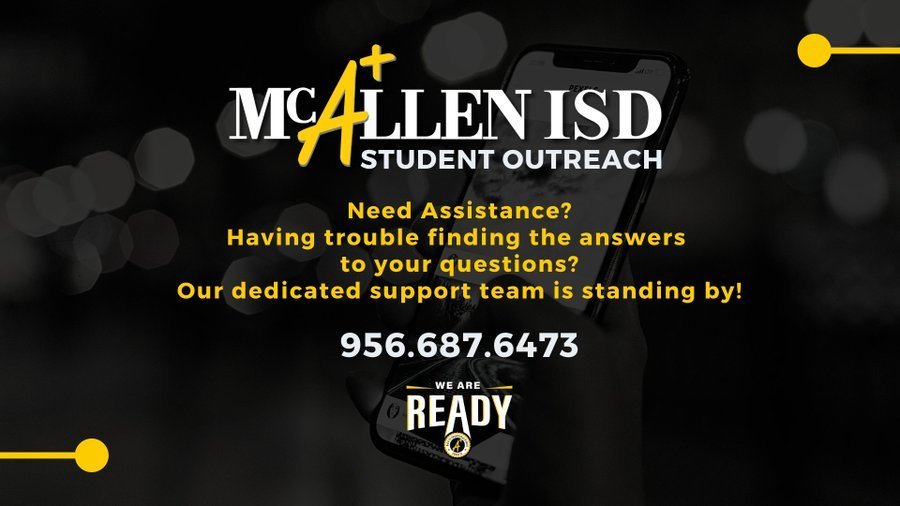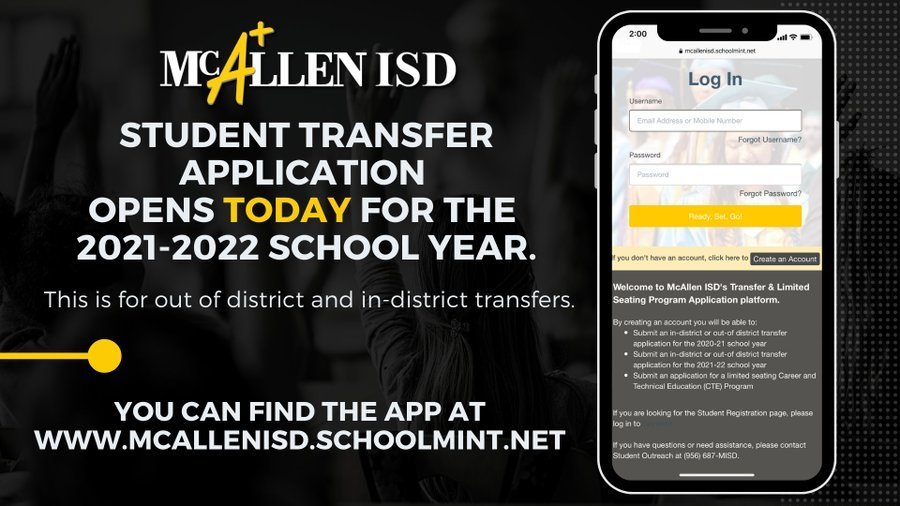 Free COVID-19 testing January 13 and 15. The sites will be under the direction of the Hidalgo County Health Department and the Texas National Guard. Covid Testing is free for all of the community and no registration is required. Testing requires parental consent for anyone under 18 years of age not accompanied by an adult. Please click the flyer for more information. Prueba gratuita de COVID-19 el 13 y 15 de enero. Los sitios estarán bajo la dirección del Departamento de Salud del Condado de Hidalgo y la Guardia Nacional de Texas. Covid Testing es gratuito para toda la comunidad y no es necesario registrarse. Las pruebas requieren el consentimiento de los padres para cualquier persona menor de 18 años que no esté acompañada por un adulto. Haga click en el volante para obtener más información.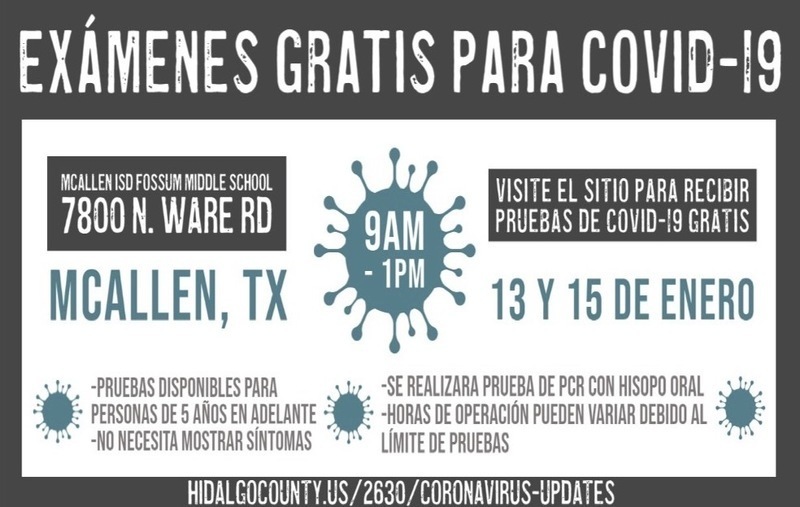 Happy School Board Recognition Month! Thank you for your dedicated leadership in public education and continuing service to the children of this community. Gracias por su liderazgo dedicado en la educación pública y el servicio continuo a los niños de esta comunidad. #DistrictOfChampions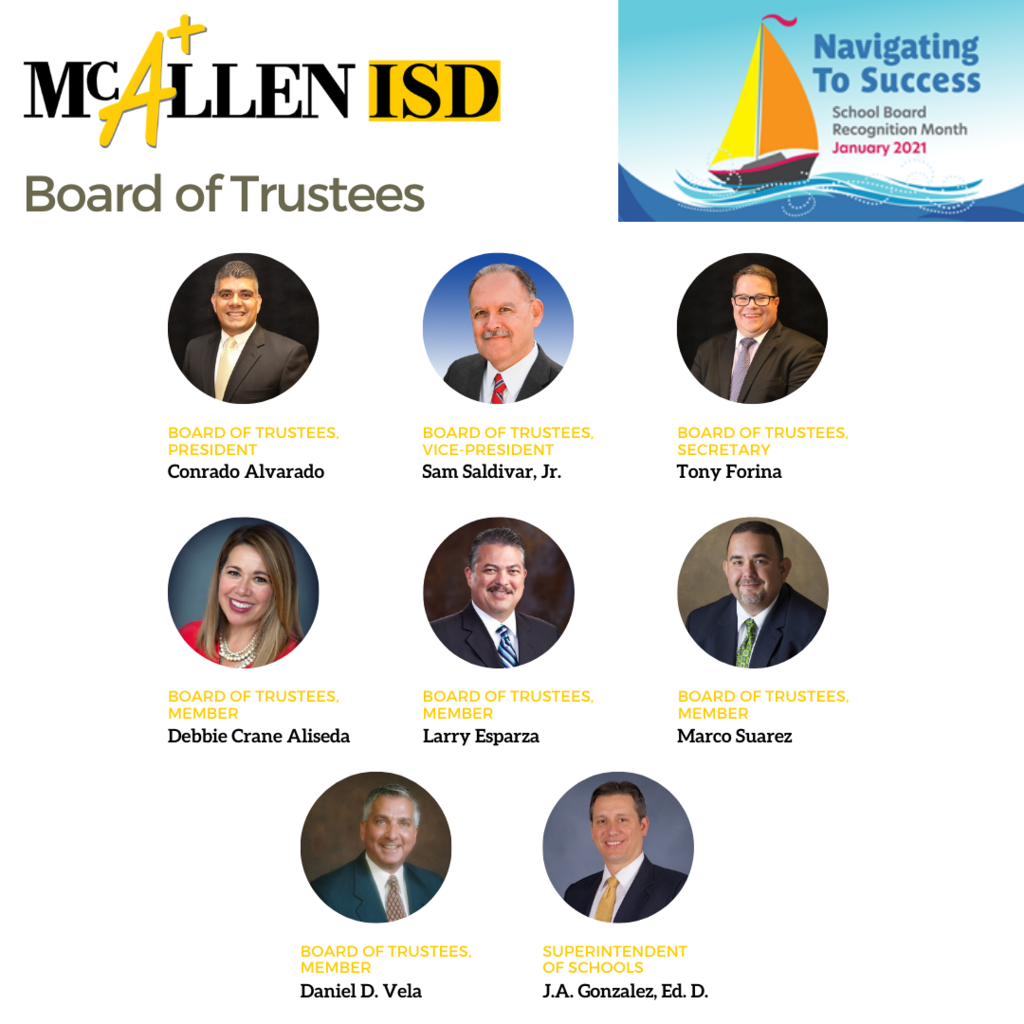 Registration for next year is open! Register today, deadline is March 31. Click here
https://buff.ly/3mXkqcq
for registration . ¡Las inscripciones para el próximo año están abiertas! Regístrese hoy, el ultimo dia para registrarse es el 31 de marzo. Oprima el enlace
https://buff.ly/3mXkqcq
para registraciones.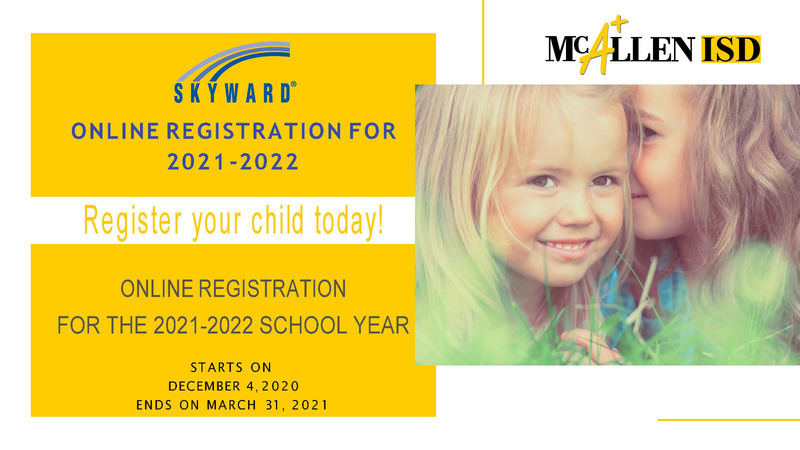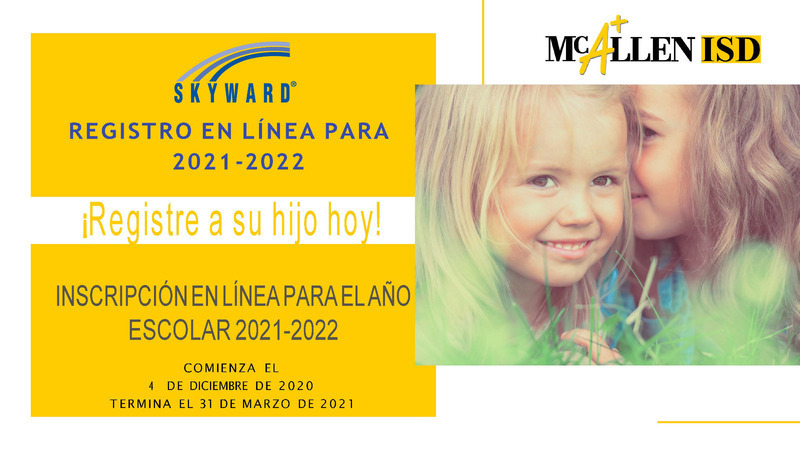 Wilson Warriors, here is the January lunch menu! Wilson Warriors, ¡aquí está el menú de Enero!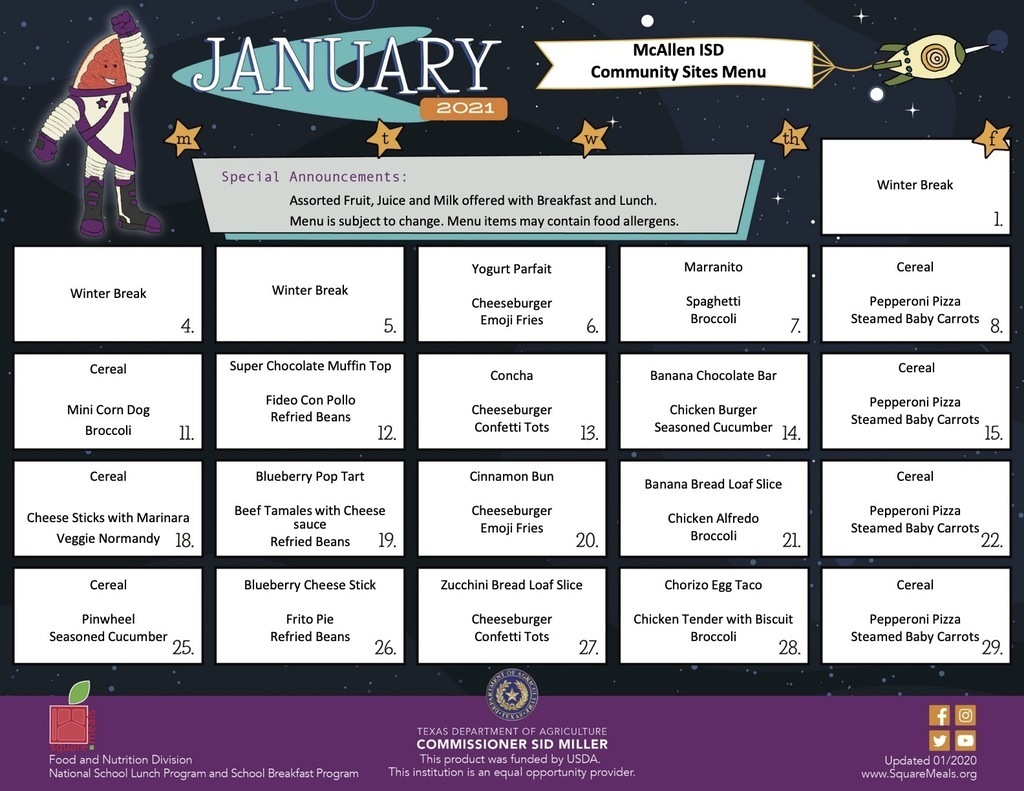 Meal Program resumes today! McAllen ISD Child Nutrition Program. ¡El programa de comidas se reanuda hoy! Programa de nutrición infantil de McAllen ISD #DistrictOfChampions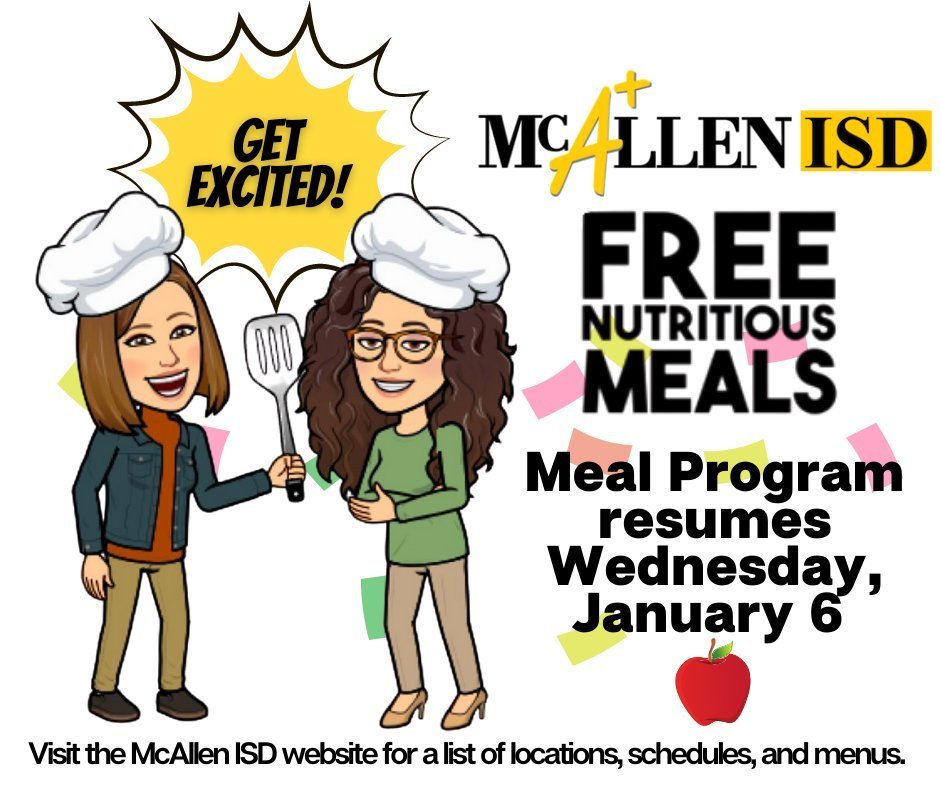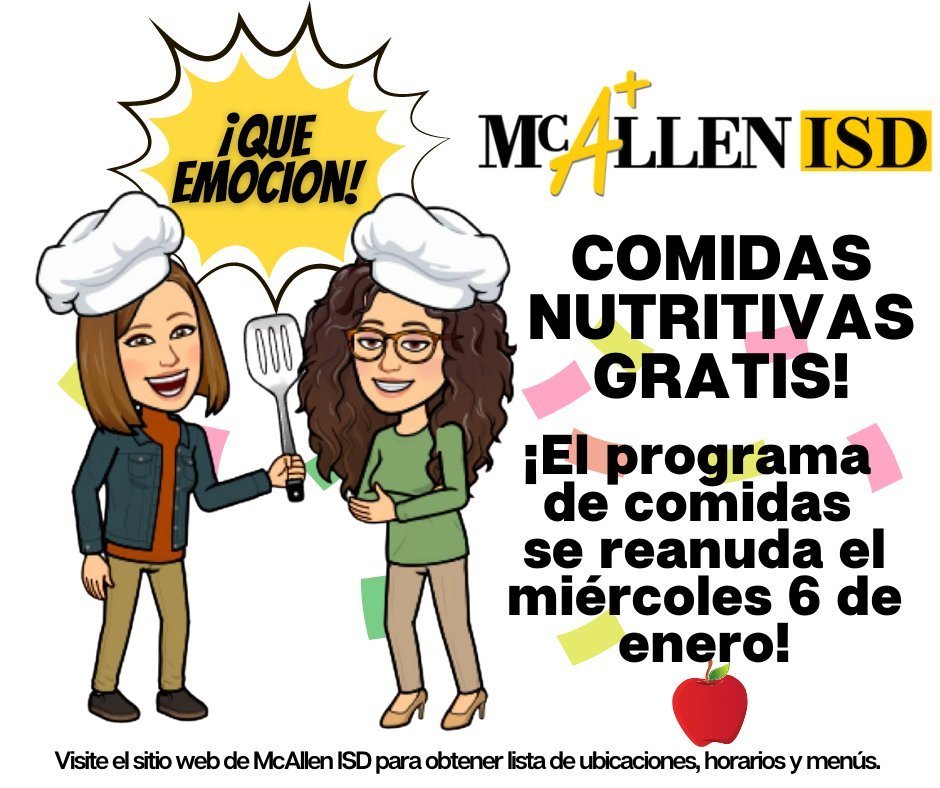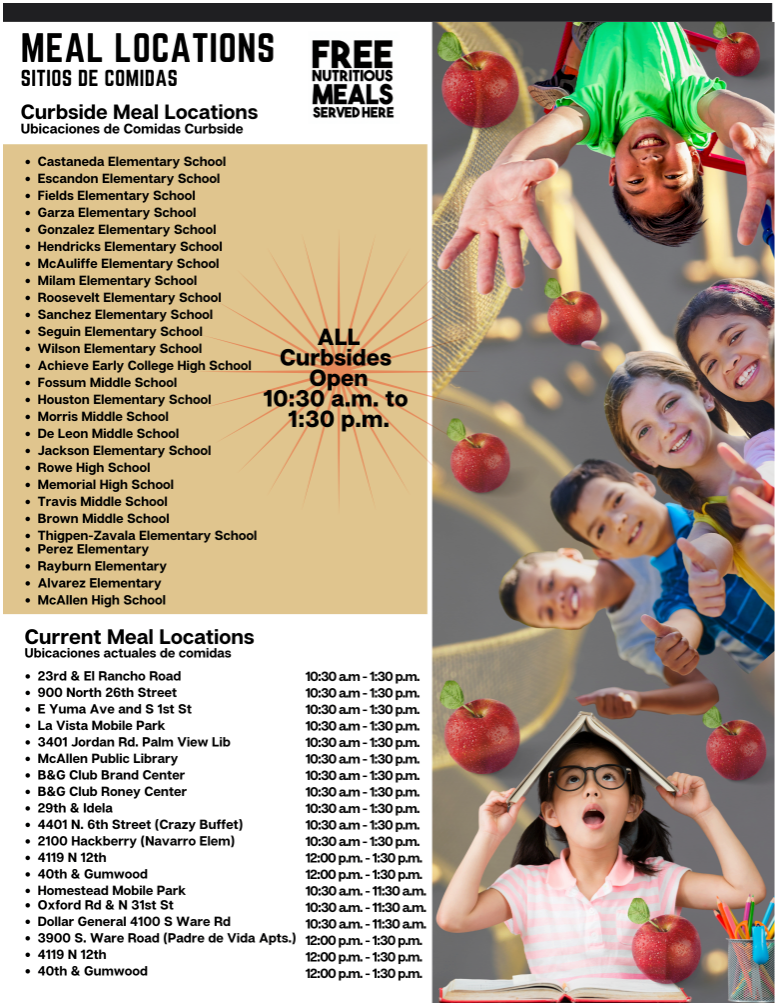 Special announcement from McAllen ISD over plans for when school resumes in January. Please read the letter for more details. Anuncio especial de McAllen ISD sobre los planes para cuando se reanude la escuela en Enero. Lea la carta para obtener más detalles.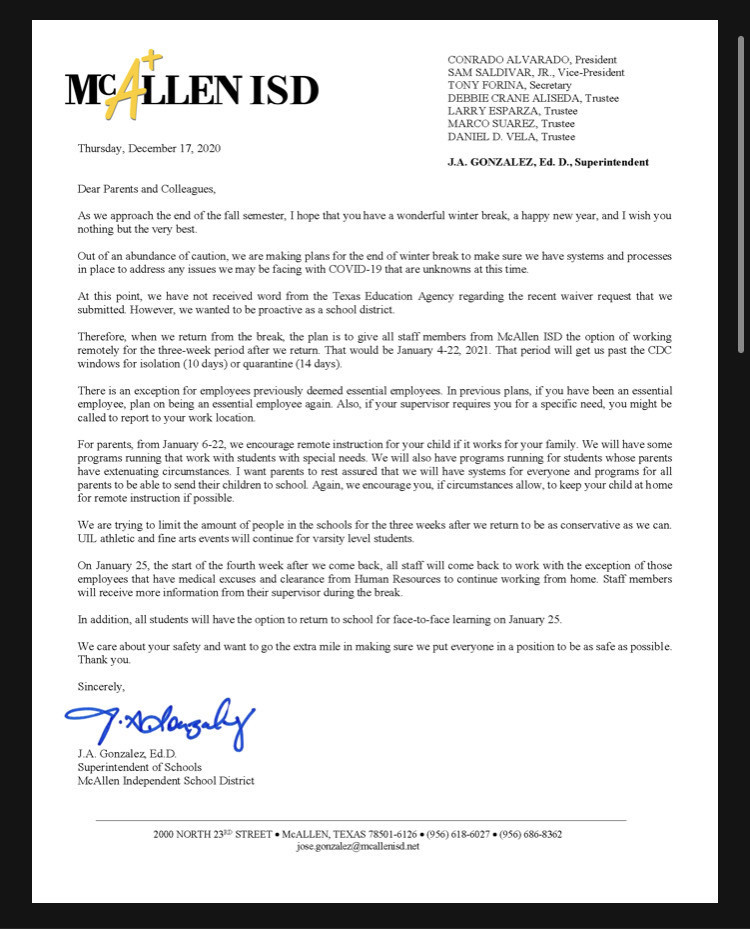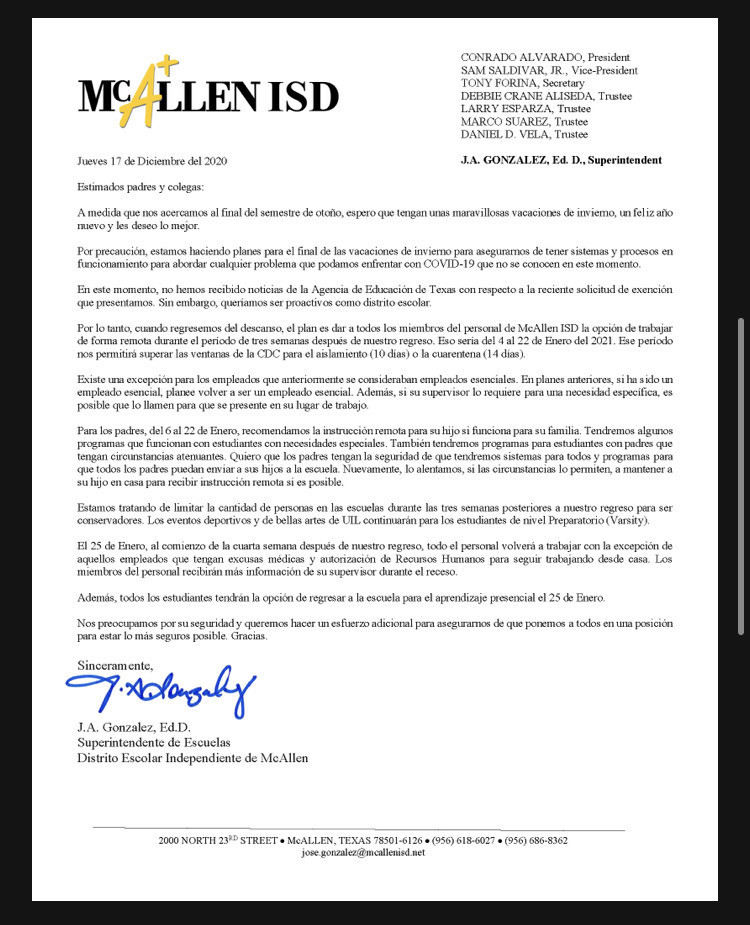 Wilson Warriors, remember to head over to our campus to pick up your daily meal bundle. You will also receive a meal bundle for next week! See the flyer below for details. Wilson Warriors, recuerden dirigirse a Wilson Elementary y pasar por su paquete de comida diaria. ¡También recibirán un paquete de comida para la próxima semana! Lea el folleto para obtener más informacion.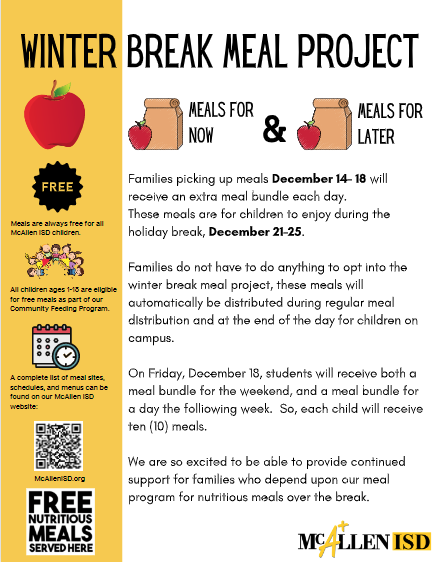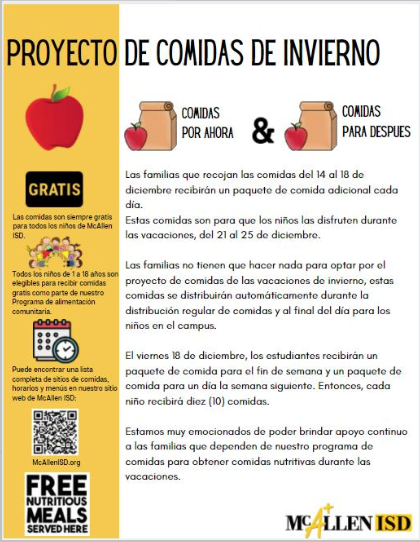 Packet pick-up for the 4th six weeks will be tomorrow Wednesday, December 16, 2020 and Thursday, December 17, 2020. Please read the flyer for scheduled times. La distribucion de paquetes para las 4tas seis semanas será mañana miércoles 16 de Diciembre de 2020 y jueves 17 de Diciembre de 2020. Por favor lea el folleto para los horarios.
Extra meals this Holiday Season. Please read the flyer for more information. Comidas adicionales en estas fiestas. Por favor de leer el volante para mas informacion.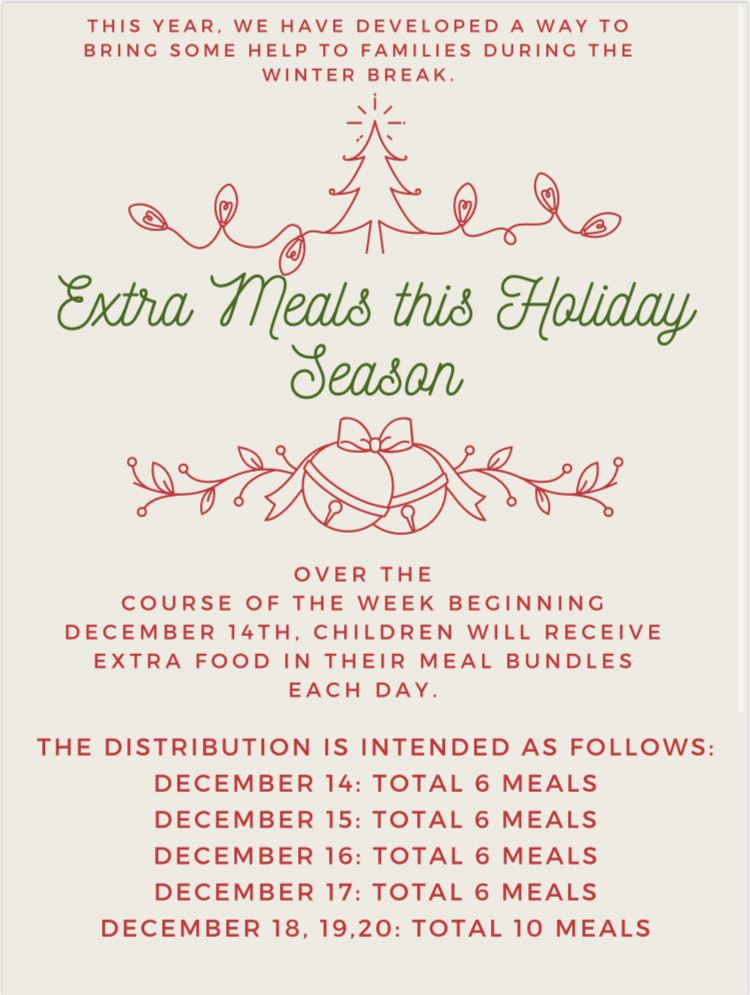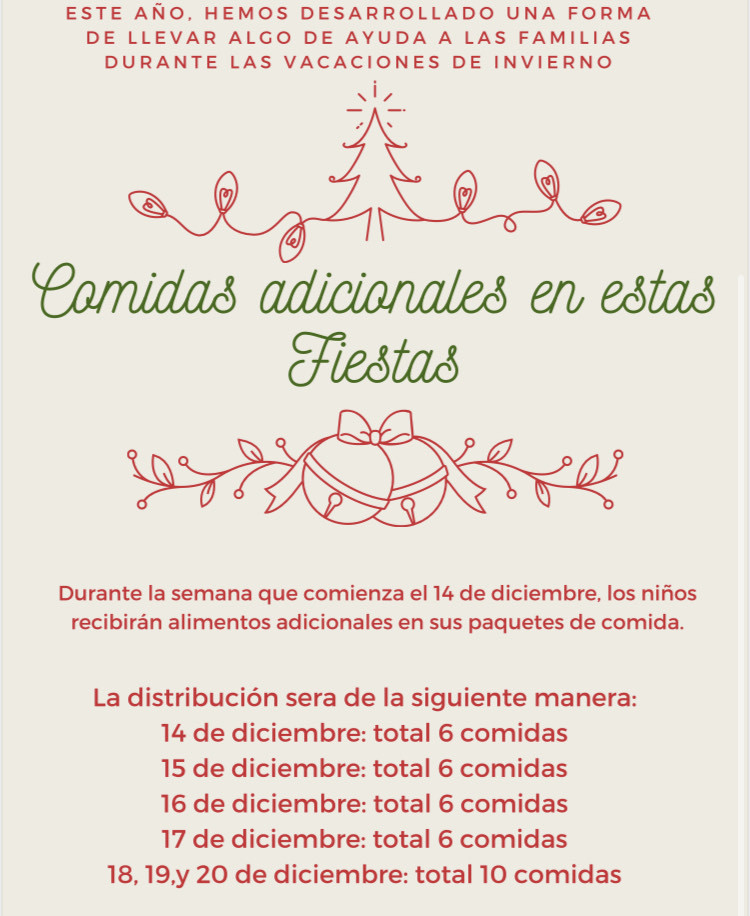 Registration for next year is open! Register today, deadline is March 31. Call 687-6473 or click here
https://buff.ly/3mXkqcq
. ¡Las inscripciones para el próximo año están abiertas! Regístrese hoy, el ultimo dia para registrarse es el 31 de marzo. Llame al 687-6473 o oprima el enlace
https://buff.ly/3mXkqcq
.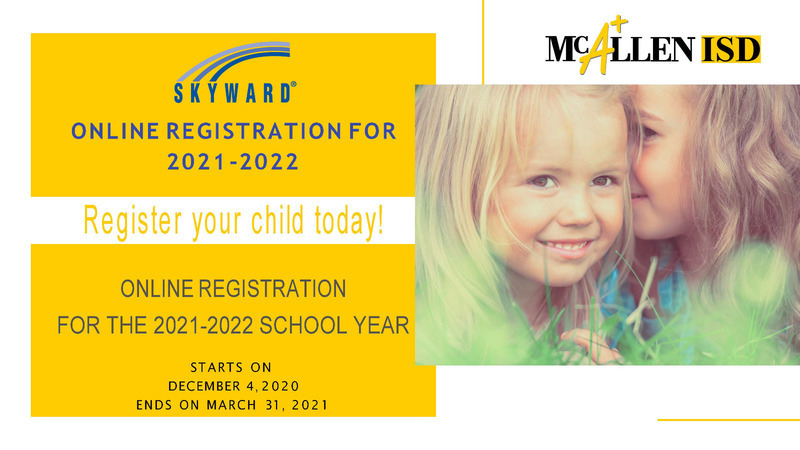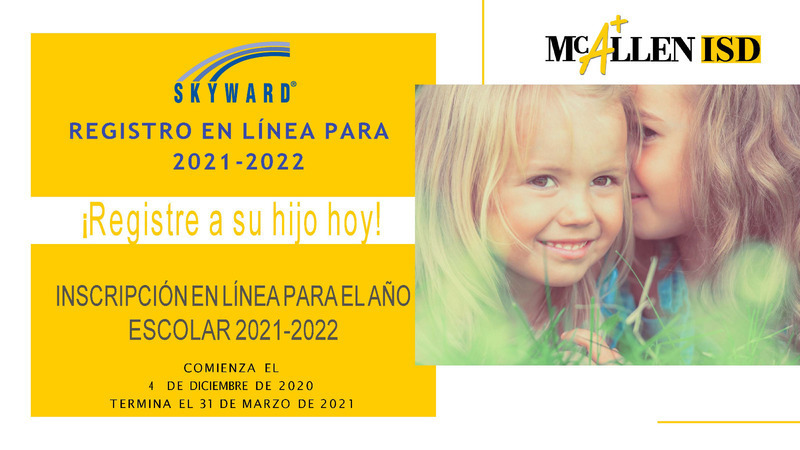 Happy National Special Education Day to those who dedicate their lives to teach children with special needs! Thank you Mrs. Lozano, Mrs. Zepeda, Mr. Gutierrez, Miss Del Bosque, Miss Gallegos, and Mrs. Bazan for all that you do!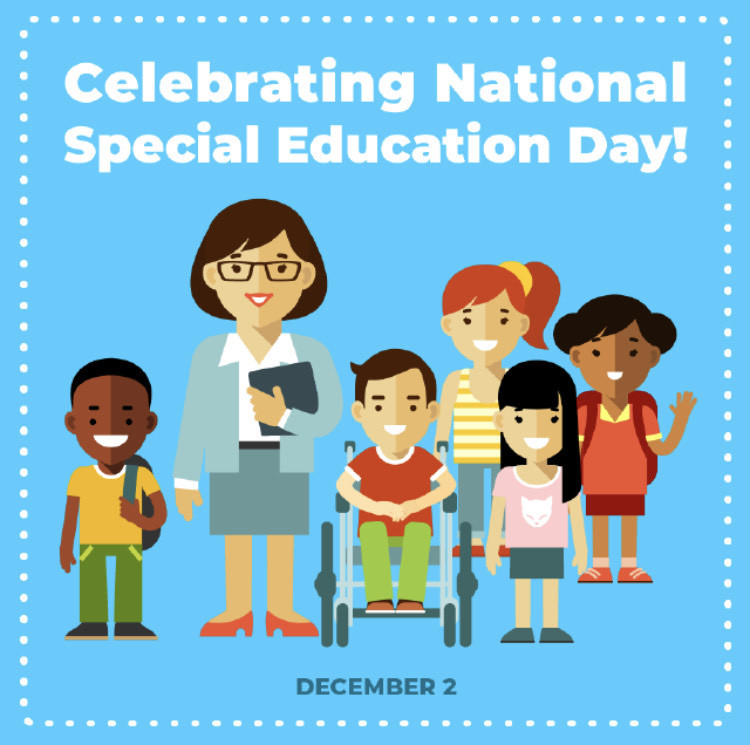 Parents please read: Benchmark Test Pick up is for students who are ONLY 2nd-5th grade doing virtual Learning. Test pick up will be on Thursday, December 3rd. Please see the flyer for scheduled times. Por favor de leer: La distribucion de examenes es para estudiantes que SOLO están haciendo aprendizaje virtual de 2nd- 5th grado. La distribucion del examen será el Jueves 3 de Diciembre. Por favor de ver el boletin para los horarios.